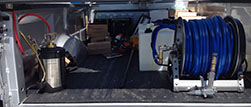 Trying to get rid of pests in your office or home on your own, cannot only be ineffective, but also quite dangerous. Our London company, however, can help you eliminate any annoying pests regardless of their quantity, hiding place or stubbornness. Our competent and friendly pest control engineers will provide you with a custom solution, saving you time, money and headaches.
Most thorough pest control service in London
The exterminators who are part of Goodman Handyman's team are incredibly well-trained and prepared to fight off any home or office intruders from the animal kingdom. They have access to modern equipment and professional pesticides that will not only eliminate the pests in your life, but also do it in a way that will not harm the health of people who live or work in the property or threaten the wellbeing of your pets.
Careful inspection of the property – Before our pest control engineers get to the treatment stage of the process, they will first do a thorough inspection of your entire home or office in order to avoid any unpleasant surprises in the future. Even if the infestations seem limited to only one room or to a certain part of the building, the real situation may be much more complex.
Complete eradication of pests – To treat the infested spaces, our qualified pest control experts in London will use the most effective equipment and substances available on today's market. It should be noted, however, that we do not rely on pesticides and insecticides that are toxic and health-threatening. Instead, our vetted team carries only green and naturally-based pest control products.
Pest proofing availability – In order to help you avoid ending up in the same nightmare again, our skilled pest proof staff will seal, block and install barriers to keep the nasty creatures away in the future.
Useful pest control assistance – We can also offer you professional pest control tips for free, in case you want to learn how to better protect yourself from uninvited guests.
We fight all kinds of unwanted pests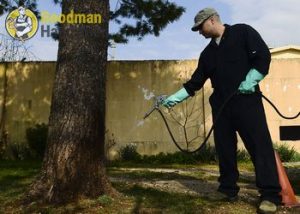 From maggots, ants and cockroaches to rats and moles, our pest control service targets all kinds of pests. Our dedicated team is trained in various extermination methods that can be applied to different types of infestation scenarios. With the assistance of modern equipment, exterminators can also predict seasonal pest activity and prepare your property in advance for potential mosquito infestation, for instance. We also offer affordable bird proofing solutions in London. Our pest control professionals are qualified to install bird nets, spikes and wire systems to prevent seagulls or pigeons getting close to your business or residential building.  The experienced professionals we employ will not hinder the working process in your office or disturb the comfort in your home while doing their job.
Affordable and effective emergency solution
We know that some pest infestation situations require emergency attention. That is why our team of diligent and motivated exterminators can be hired on a very short notice seven days of the week. Even then, our prices are very reasonable and the results – always prefect.