Effective property maintenance (home, office or other) means keeping the plumbing in check at all times. Plumbing systems can be a nightmare to look after at times, especially when aging or not fitted properly. Sometimes seemingly insignificant plumbing issues can lead to serious problems and result in a hefty damage tally to pick up. Our advice – not to take any chances when you can have our qualified and experienced plumbers deal with emergencies, repairs and scheduled maintenance of your property's pipework, plumbing water fixtures and appliances.
Regular maintenance, repair and replacement
We can organise for fixed schedule health checks of your property's plumbing and water supply system. Our plumbers can prepare a seasonal or annual checklist and assessment sheets which cover pipework, fixtures and appliances connected to the water supply system of the premises. Regular check-ups can prevent potential property flooding and extensive water damage.
Urgencies and emergencies
We at Goodman Handyman London understand that plumbing incidents and accidents happen when least expected. Our rapid response plumber teams will be with you as soon as physically possible, equipped and ready to deal with the situation. Plumbing emergencies are attended to seven days a week, twenty four hours a day. If the going gets tough, additional resources and manpower can be engaged in order to contain the situation as quickly as possible.
The mundane stuff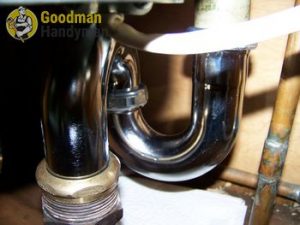 Effective plumbing maintenance doesn't always mean burst pipes, flooded basements and water damage. Things like leaky taps, blocked drains and toilets, sluggish flushes and funny water pressure are all common issues which our plumbers are more than capable to deal with – quickly and affordably. Our guys can replace taps/faucets, seal and waterproof gaps in wet rooms, change and repair pipework – joints, entire sections, unblock toilets and drains, replace cisterns, sink basins and many other water fixtures, also regulate water pressure and eradicate that nuisance phenomenon known as water hammer.
Parts, materials and supplies
Obviously we are looking to provide customers with safe and reliable plumbing service which delivers long lasting results instead of cheap band aid fixes. Our tradesmen are well aware of industry standards and regulations applicable to parts, materials and supplies used in the course of their work. We work with suppliers of quality parts and materials in order to ensure best possible results.  Although less reliable parts and materials can be used in order to reduce pricing, we do not recommend doing so as we believe our plumbing service already delivers a good combination of quality and affordability.
Essentials and additional information
All domestic and commercial plumbing work undertaken;
Ongoing plumbing maintenance & regular checks available;
Swift response to plumbing emergencies;
Work done by qualified and experienced plumbers;
Use of industry certified, high durability parts and materials;
Fair pricing and accurate service quotes;
All plumbing repairs and maintenance carried out in strict accordance to industry health, safety and environmental regulations. For more information on service availability, coverage and pricing please speak to our customer consultants. Generally we maintain excellent short notice availability under extended hours during all days of the week, including bank holidays.