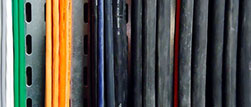 Our comprehensive and effective electrical service in London is a smart and safe way to do any electrical work around your home or office. We work with a trained and dedicated team of electricians and that enables us to take on jobs regardless of their character, complexity and proportions. From changing a single light bulb to installing and repairing entire electrical systems – our skilled professionals can successfully complete small and major electrical projects in London at a great price.
We can solve any electrical problems
Goodman Handyman's properly trained team of electricians can be booked for any electrical job. They have a wide range of skills that allows them to find the right solution for any electrical-related issue very quickly. In addition to that, they work in risk-free manner by meticulously complying with all health and safety requirements.
Installations – Sockets, switches, cabling, light fittings – you name it and our competent electricians will professionally install it. For customers who want to have more socket outlets, we can install triple outlets at selected spots around their home or office.
Repairs – By relying on advanced equipment and their own skills, our experts can find a solution for any electrical problems you have no matter how simple or complicated they are. They will effectively repair damaged terminal connectors, sockets, pull-cords and many more.
Replacements – When repairing is not enough, the company's meticulous professionals will replace faulty electrical parts, like wires, sockets, cables, conduits, plugs, junction boxes and etc.
Lighting jobs – Our dedicated staff has received special training in lighting equipment and installations, that allows them to offer you more than a simple light bulb change. For instance, our qualified team can fix any lighting faults or inspect light transformers.
Fault findings – When the problem is not quite obvious, our attentive electricians will investigate and find the right cause of the trouble. To do that, they will use highly sensitive equipment, as well as their extensive experience and knowledge.
Cheap electrical services in London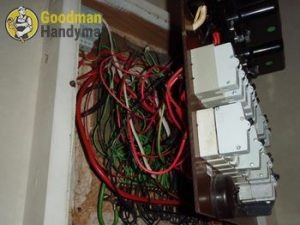 Goodman Handyman's electrical service is one of the most affordable ones in London. That is due to the fact that we charge our customers based on the size and difficulty of the project. We will not force you to pay for something you do not need. Instead, we will send our friendly consultants to your home or office, so that they can evaluate the situation and estimate the cost of the service. Once they do that, our advisors will provide you with a personalized quote, but not without considering your budget of course. Both domestic and business customers can count on us to offer them high quality electrical services at a competitive price.
Professional equipment equals top quality
In order to be able to always provide its London clients with premium quality and 100% satisfaction, our company has invested in up-to-date and reliable equipment that includes sensitive multifunction testers, professional tool kits and reliable inverters. Our careful technicians also wear all the necessary protection gear to avoid any risks during their work.