Book a Skilled handyman in DA15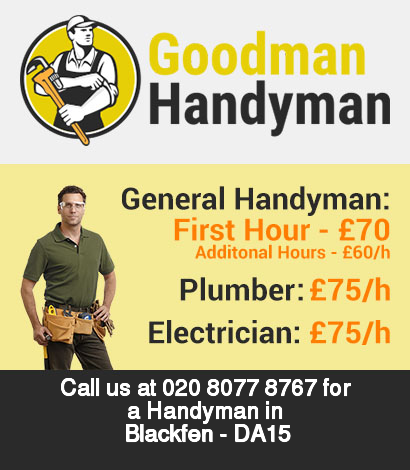 Allow us to lend you a hand with
your DA15 Blackfen home maintenance duties
. We are licensed technicians and we provide house maintenance
services in DA15 Blackfen
of the world class quality. We have the required assets to plan and carry out both large and small scale repairs on any type of residential property. We can also help you with the mounting of your household amenities. We provide a large selection of
Blackfen handyman services
because we want our clients to know that they can turn to us for any type of project.
Our options are fully insured because we are responsible DA15 repairmen who
always
cover all angles. It is because of our diligent methods of work that to date we have never missed our deadlines. You can learn more about us and demand for an individualised quote by giving us a telephone call or sending us an e-mail.
Getting a precise handyman for your domestic needs is easy - call 020 8077 8767
If you need
reliable and seasoned
carpenters
, than we are glad to announce that our company offers a great variety of services
in the area of
. We provide expert carpentry solutions that can satisfy the demands of every homeowner at quite affordable costs. Some of the top notch services
available to our DA15 customers include
, without being limited to, a wide range of remodelling jobs. Our carpentry contractors are certified and can install or build different wooden furniture. The handymen come with all the instruments they need in order to guarantee a hassle-free and quick job. Our carpenter company has several years of experience and can offer different solutions with timber no matter what the size of your house is at the most attractive price in the area.
Our Blackfen handymen can get your plumbing repaired and/or made
Need to book a certified
plumber handymen
in DA15 Blackfen? No worries – we got exactly what you need! Our professional plumbing service in Blackfen DA15 offers thorough and reliable solutions to various general and emergency plumbing problems faced by households and establishments. People should definitely turn to us for
Repair and replacement of leaky pipework, taps and other water fixtures
Unblocking of toilets, sinks, kitchen/bathroom/laundry drains etc
Installation/connection/health check of water appliances
In order to ensure best possible repairs and workmanship quality we
utilise the skills and expertise of professional DA15 plumbers
who use industry approved spares and supplies on all jobs. Workplace establishments and residential customers in Blackfen DA15 receive week round service coverage under extended hours. We do our best to handle all plumbing emergencies as soon as physically possible. Competitive estimates ,
adequate pricing
, no hidden fees.
It takes a skilled handyman in Blackfen to paint a house/flat
You can look for weeks but you won't find more competent and capable painters than us. We make this bold statement because we are currently reputed as the contractors who provide the best
painting services in Blackfen
. To use it doesn't matter whether we have to repaint your entire household or just a room because we have the required manpower and assets to easily and smoothly carry out even the most laborious and complex projects. Throughout the years we have managed to maintain a
110% completion ratio
in DA15 because we are always ready to walk the
extra mile
in order to meet the requirements of our clients and our predetermined deadlines. You can book our painting services in DA15 Blackfen by telephone or e-mail .
A high percentage of the estates are owned by occupants. The main redevelopment and urbanisation projects in Blackfen began after the nineteen twenties. As mentioned, the Battle of Hastings took place in the area during the eleventh century. Interestingly enough, this was the only notable event to be recorded in Blackfen for the next six hundred years. The first attempts to develop and urbanise the locale were on behalf of Queen Alexandrina Victoria, who ordered the area renovation shortly before the eighteen fifties. However, efforts were insufficient and challenged by affluent locals, as redevelopment plants included demolition and removal of a number of local landmarks, including the public house, built by one of the local patrons.
Our firm can handle any property maintenance project nearby
We also have handymen-electricians in Blackfen
We are qualified and seasoned electrical
contractors in DA15 Blackfen
and we provide world class handyman services in DA15 which can solve all your electrical conundrums. To us it doesn't matter whether we have to fix light switches or rewire your house's entire electrical system because we have the expertise and technical capacity to handle any job regardless of scale and complexity. Our technicians are reliable and skilled professionals who won't hesitate for a second to go beyond their call of duty in order to equal your demands. You can learn more about our
electrical services in Blackfen
by either exploring our website or giving us a call .