Removals are a very dreaded household chore due to the incredibly annoying processes that they involve. Instead of stressing out and trying to do it by yourself you should rely on our excellent Man and Van work. We make an activity that would otherwise take up a large portion of your day pass smoothly and without much effort.
Quality and reliability
There is huge demand for removal services right now. This means that there are dozens of firms like ours popping up each day, but how to discern the difference between the pros and those that are simply not up to par. its relatively easy, you have to see if they have:
A skilled team
Adequate packing materials
Well maintained vehicles
While not everybody might be able to provide you with them, we are certain to leave you coming back for more of our work.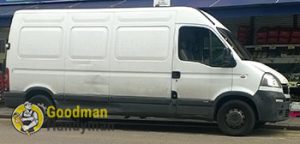 The thing that has allowed us to keep a spotless record is our proficient team, made up of specialists, capable of a wide variety of services. They have been selected from a pool of the best of the industry and undertaken extensive training to deliver consistently impeccable results.
As we mentioned before, good equipment is paramount to the success of the relocation (as much as the repairs done by your London handyman) and you should be relieved to know that we never go cheap on our tools. Our packing materials are both strong and biodegradable, for the sake of both your items and nature and the loutons and lorries in our garages are all brand new and operated by seasoned veterans.
We rely on fully-equipped moving vans
Our convenient man and van services in London are very secure since we have a massive armada of insured moving vehicles. We have also installed various safety features in each of them, including van ramps, covers, moving straps and etc. Therefore, our seasoned staff can collect and deliver even extra-heavy furniture and domestic appliances without a problem. Our vans and truck are maintained in a tip-top condition which helps us to deliver time-efficient man with van services in London.
Unparalleled convenience
Undoubtedly, the main reason for the popularity of services like ours is the comfort they provide to the clients, and you can be sure we are stellar in that regard as well. We are easy to reach – all you have to do is dial our phone number or book us online.
London is one of a kind city simply because there are many things about the English capital that make it truly unique. Only in London can you ride on a red double-decker bus or get a black cab. The capital of the United Kingdom is also one of the greenest metropolitan areas in the world since it has over 3,000 open spaces and parks. And let's not forget that London offers a wealth of landmarks and entertainment venues.