Book a Friendly handyman in N14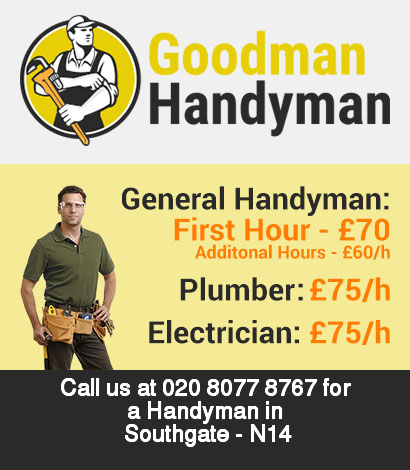 Even the smallest
home maintenance projects
can quickly become laborious and costly jobs which will consume vast amounts of your time and energy. You can avoid this from happening by giving us a call and deciding to take advantage of
our N14 Southgate handyman services
. We are seasoned technicians and we have the necessary manpower to easily, quickly and efficiently carry out both small and large projects.
We use only
the best construction instruments
because we want to be able to handle complex jobs without any supplementary complications and costly delays. During our careers we have worked on
numerous house repairs
in Southgate N14 and we have managed to complete every single one of them with flying colours because we operate in a punctual and diligent manner. You can
request your non-binding and free quotation
by telephone, e-mail or the online contact form which we have posted on our website. Know that we are eager to work with you .
Getting a trusted handyman for your domestic needs is easy - call 020 8077 8767
If you need
reliable and seasoned
carpenters
, than we are glad to announce that our company offers a great variety of services
in the area of
. We provide expert carpentry solutions that can satisfy the demands of every homeowner at quite affordable costs. Some of the top notch services
available to our N14 customers include
, without being limited to, a wide range of remodelling jobs. Our carpentry contractors are certified and can install or build different wooden furniture. The handymen come with all the instruments they need in order to guarantee a hassle-free and quick job. Our carpenter company has several years of experience and can offer different solutions with timber no matter what the size of your house is at the most attractive price in the area.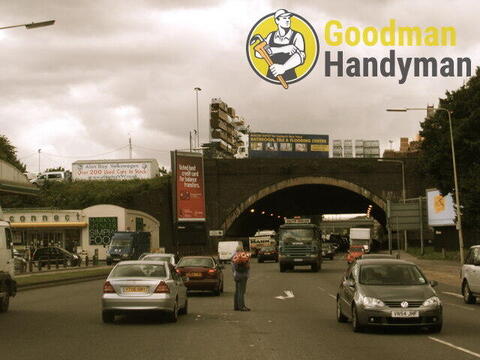 Our Southgate handymen can get your plumbing repaired and/or made
Take a
well-deserved pause
and have us
repair your broken and blocked pipes
. We are competent and accomplished contractors and we provide
plumbing services in Southgate N14
of world class quality. We have a crew of well-trained and diligent specialists who will give a 110% effort in order to match all your desires and make sure that your property's plumbing system is operating at maximum efficiency. Unlike other handyman
plumbing companies in N14
we always seek ways to ameliorate our services and this is why we frequently learn and master the
new work methods
which will permit us to handle more quickly and effectively complex and laborious projects. You can learn more about us by contacting your courteous and knowledgeable costumer consultants or by exploring our company website.
It takes a cheap handyman in Southgate to paint a house/flat
We are a renowned company that has extensive knowledge in the sphere of painting services and our professional decorators know how to help the
customers in N14 Southgate
with any kind or size of house painting job. We (Goodman Handyman) provide a complete set of services to change the colour of your Southgate N14 home that include partial or complete painting of the outer or inner part of the premises .
Our teams of professional painters
are properly trained to use various techniques and can be trusted to complete a hassle-free and quick job at the best rates that can be found in the area. The decorators will come fully equipped to your house at a time chosen by you .
Southgate is definitely a multicultural and quite affluent district. On one hand, some of the most notable families in English history have had at least at some point owned a residence in Southgate - it will suffice to mention Sir Thomas Lipton, Amy Winehouse, Dee Morray and David Jordan. On the other, the high number foreign communities in Southgate contribute to the cosmopolitan spirit of the area. During greater part of the 20th century here was one of the largest Jewish communities in London. Even today their number is considerable, as well as those of the Japanese and Greek immigrants.
Our firm can handle any property maintenance project nearby
We also have handymen-electricians in Southgate
Electrical maintenance
is extremely important to any household in Southgate.
If you think you are having electrical problems can try giving our handyman electricians in N14 a shot. Simple jobs such as wiring a thermostat or putting light switches, for other companies come with
lucrative payments in Southgate N14
. Instead of bleeding our clients dry we have undertaken another approach. We are sure that an affordable and reliable service is a sure way to
locate work
in N14 Southgate. We also possess some of the best equipment in the business.