Book a Safe handyman in EN4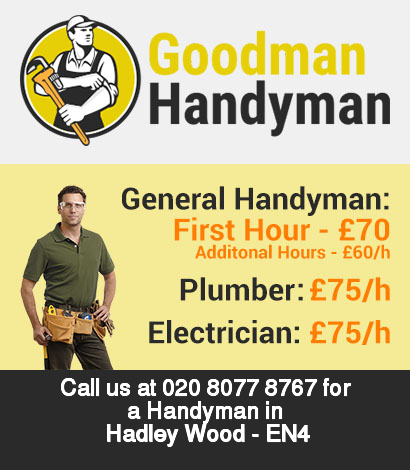 As far as
quality repair and maintenance
services in
EN4 Hadley Wood
go, we are indeed the best providers of solutions to
all sorts
of clients from around the area.
It does not matter whether the job you need assistance with is big or small , simple or complex. It does not matter whether you need everything done right away, or you can wait for a couple of weeks .
Our handymen in Hadley Wood EN4
work with some of the best tools, materials and tested methods that are known to the industry at the current moment, and they operate on a very flexible schedule that can be tailored in accordance to your individual requirements and needs. All you have to do is pick up the phone and make a
reservation
. They rest would be our job, and we do it
better in Hadley Wood than anyone else
– you can count on that. We can make your house a better, more comfortable place – just let us .
Getting a cheap handyman for your domestic needs is easy - call 020 8077 8767
There might be a wide range of
carpentry services in EN4
but the simple truth is that none of those is as cheap and high quality as the one that you can count on us for. Our experts are licensed specialists with years-long experience in handling domestic
improvement projects in EN4
. They have access to truly reliable professional tools , supplies and materials that are of the highest quality.
Get our carpentry service in Hadley Wood which has clearly stood the test of time, and you will never have to worry about the end results of the
project that you are planning for your household
. We are here to look after your comfort and peace of mind and do so better than anyone else.
Our Hadley Wood handymen can get your plumbing repaired and/or made
Experienced
and reliable
plumbing handyman in Hadley Wood
is just a phone call away! We provide private and business customers in EN4 with professional plumbing solutions covering a wide range of requirements including
Unblocking of drains, sinks and toilets (emergencies too)
Installation and connection of showers and water appliances
Repair and replacement of leaky faucets, pipework etc.
In order to yield long lasting results and maintain quality workmanship we employ skilled and knowledgeable plumbers equipped with the right tools and materials for the job.
Our teams use high durability/industry grade spare parts and supplies in order to deliver optimal results.
The professional plumbing services
we offer in EN4 happen to be the affordable option you need. Pricing is moderate and does not contain any unmentioned charges .
It takes a moderately priced handyman in Hadley Wood to paint a house/flat
We are offering reliable and low cost painting services in the region of Hadley Wood. Our decorators can assist with various tasks, such as outdoor painting or specific texture colouring and you can hire them at quite moderate rates. Our customers in EN4 can be sure that
with our handymen
their house painting project is in the hands of higly motivated and reliable workers , who can meet the various wishes you have. Book us now to paint
your Hadley Wood EN4 home
and you can enjoy a hassle-free and high quality service due to the variety of painting techniques that our team of pros uses. Become one of the
numerous happy customers
with a newly-painted house at such a fee that has no match in the area.
Our firm can handle any property maintenance project nearby
We also have handymen-electricians in Hadley Wood
If you want to avoid electrical problems you should contact our company and get our excellent but moderately costing services available in the area of EN4 Hadley Wood. Our handyman electricians will provide a
full check
of the
electrical grid
of your house in no time. For our Hadley Wood EN4 customers we also provide a great variety of electrical services that include but are not limited to light installation in all premises. Your EN4 Hadley Wood house will be completely safe in the hands of our
trained and experienced
handymen. By hiring us you get the best
electrical contractor
in the area of Hadley Wood EN4 for the best possible fees .