Book a Punctual handyman in N21
We are the
handymen in N21 that you can count on
for all sorts of house repair and maintenance services that come on competitive prices and with a
guarantee
for quality.
Over the years
we have had the chance to be servicing a large number of people from all over the area of N21 Grange Park and we have never failed to reach their highest levels of satisfaction. It is easy to get your bathroom or staircase fixed now that you have our licensed and
reliable experts
in
Grange Park N21
ready to work by your side day and night. We offer
security, peace of mind
and a flexible schedule – the three key components of every house repair service in N21 much like anywhere else. Our friendly and skilled customer support experts are ready to answer your questions, give you a hand with the booking process and much more – just give them
a call
today.
Getting a certified handyman for your domestic needs is easy - call 020 8077 8767
We are the leading provider of
absolutely reliable
carpentry services
in N21. Our skillful and motivated and
extensively
experienced professionals are ready to work for you day and night in order to complete your project, and by doing so make your house into the place of your dreams.
Tell us what sort of carpentry work in Grange Park you want
to get done and we will facilitate in every way for it to be completed. All imaginable conditions that we operate on are among the best in Grange Park - they are made available to you in such a way that would guarantee your comfort, peace of mind, and your ultimate satisfaction with the results that are being delivered to them by our experts.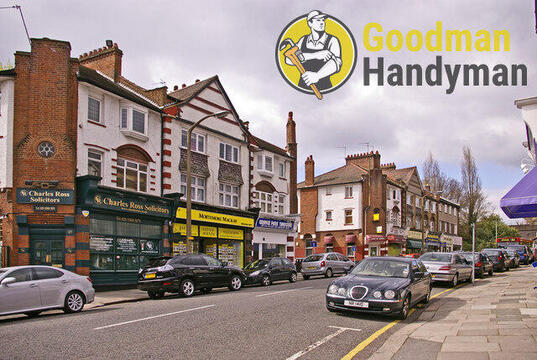 Our Grange Park handymen can get your plumbing repaired and/or made
Plumbing problems
come in the most unexpected of times , it's a fact of life. Having said that, our professional plumbing handymen in Grange Park N21 provides a quick and efficient solution to a variety of small and not so small problems relating to plumbing, fixtures and water appliances.
Households and offices in N21 Grange Park
can turn to us for
Repair and replacement of leaky pipes, taps and other fixtures
Unblocking of sinks, drains and toilets
Shower and water appliance installation
Households and establishments in Grange Park N21 are serviced during all days , under extended hours. We do what we can to deal with emergency plumbing problems as soon as physically possible. Customers in
N21 Grange Park
are provided with
accurate quotes
and guarantee of quality work and industry standard results as we use durable, high strength spare parts and materials.
For a long time I wanted to repaint nearly all walls in my house but never got around to it. When I finally decided to call your company for a quote I was pleasantly surprised by the affordable prices that you work on. I dare to say that the quality of the service received was good as well. My home looks fresh and bright now when there is a new coat of paint everywhere.

Kate B., 01.04.2017
It takes a dedicated handyman in Grange Park to paint a house/flat
Do you like watching paint dry? Probably not! Do you enjoy the smell and the mess after a paint job? Doubtfully!
Why then
bother
with the entire thing in
N21
when the simple answer to your toil is just calling us right away. In the whole of Grange Park you would not find a firm better suited or trained to
operate as masterfully in N21 Grange Park
. We are masters of everything including interior jobs and exterior jobs and we do it all carefully in a blink of an eye. Our affordability is quite high and we are rapidly expanding in Grange Park N21. You can always try other firms but we assure you, they rarely meet expectations .
The development of the area began during the 20th century. The suburb is situated on the same location where once stood the infamous Enfield Old Park. Grange Park is mainly a residential suburb which is mostly inhabited by the middle class of London. Although it is a residential area, Grange Park has its own retail area which is located around the Grangeway. In the retail area of the suburb people can find independent shops, galleries, public houses and restaurants. The Gryphon is the most popular pub in the area and is also situated in close proximity to the Grangeway.
Our firm can handle any property maintenance project nearby
We also have handymen-electricians in Grange Park
You can easily solve your electrical problems by employing our company. We are certified and insured Grange Park N21 handyman electricians and we provide a large selection of electrical services. We have a crew of well-trained handyman who can easily fix even the most complex wiring damages and make sure that your short circuits are
functioning at maximum efficiency
.
We are known
to provide affordable and accessible electrical services in Grange Park, so you can rest assured that we will fit into your budget. You can see in advance how much
our assistance
will cost you by sending us an e-mail and requesting a free quote. Know that we are electrical contractors in N21 who are eager to meet and lend you a hand .