Book a Top notch handyman in EC1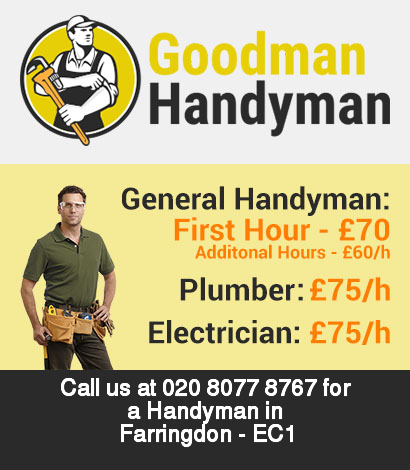 We are certified and insured repairman
and we provide handyman services in EC1 Farringdon. We have the necessary equipment and manpower to mount your kitchen appliances and make sure that you are living in a well-maintained household.
We have been in business for a number of years and today we are the
preferred specialists
of
the Farringdon community
because we have proven to them that we are highly qualified technicians who work with utter care and excellence .
During our career
we have executed innumerable house maintenance projects and we have managed to complete all of them with flying colours. Please take note that we are known to work with the most affordable prices in EC1. It is like this because we form our rates by taking into account the exclusive details of each job for which we are contacted. You can request your
non-binding
and final
Farringdon EC1 quote
by giving us a telephone call or sending us an e-mail.
Getting a skilled handyman for your domestic needs is easy - call 020 8077 8767
If there is one hundred percent
dependable
contractor that is handling
professional carpentry services in Farringdon
that are up to all quality standards of our business, that is us.
Our team of certified and fully insured
carpenters based in EC1 are prepared
to meet with you, check out what your views on the incoming
domestic update
job you have and then make the necessary preparations to make sure that your needs and personal preferences are met in a way that will satisfy you fully .
Carpentry services in Farringdon are one of our specialties and we are not going to let you down even one bit if you decide to entrust us with the job that you have in mind – this is the only possible way .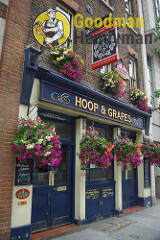 Our Farringdon handymen can get your plumbing repaired and/or made
Quick and efficient
plumbing handyman in Farringdon
is just a phone call away! We provide private and business customers in EC1 with professional plumbing solutions covering many different requirements including
Unblocking of drains, sinks and toilets (emergencies too)
Installation and connection of showers and water appliances
Repair and replacement of leaky faucets, pipework etc.
In order to yield long lasting results and maintain quality workmanship we employ qualified and experienced plumbers equipped with the right tools and materials for the job.
Our teams use high durability/industry grade spare parts and supplies in order to ensure best possible results.
The professional plumbing services
we offer in EC1 happen to be the cost-effective solution you need. Pricing is moderate and does not contain any hidden fees .
It takes a vetted handyman in Farringdon to paint a house/flat
It is always the smart choice to
call professional Farringdon painters
instead of trying to deal with such a project yourself. Our company specialises in a wide variety of decoration projects in
the EC1 area
. With us you are going to save plenty of time and effort and in the end your satisfaction is guaranteed. Even the most capricious surfaces can be painted and this includes Farringdon
outdoor painting
, ceiling painting, wall painting and even fence painting.
Our handymen use top notch painting materials
which are for
commercial
use only. We are also fully licensed and we have the paperwork to back it up .
Insurance is also covered by us so you do not need to worry about the safety of our employees .
Our firm can handle any property maintenance project nearby
We also have handymen-electricians in Farringdon
It is completely normal to delegate
the wiring of your house to someone else in EC1 Farringdon
, considering the risks involved. There are plenty of career handyman electricians on our pay in Farringdon ready to help with any
electrical problems
you might be having.
With our boys you never need to worry if they are up to par , and there is little room for error as short circuits can leave you a house short. We are one of the most renowned such firms in Farringdon EC1. Typically the best experts in EC1 are already with us.