Book a Guaranteed handyman in N7, N19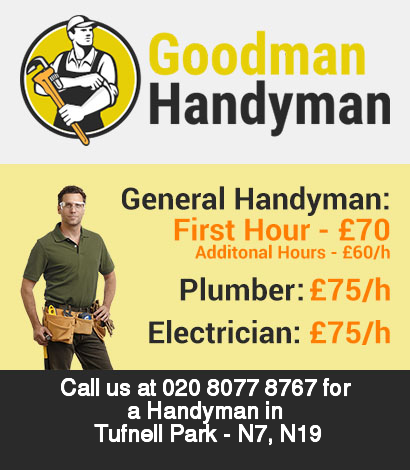 Repair work is almost as unpleasant as it is inevitable
. In
N7, N19
while you might not want to have to deal with it soon, you never know what will happen. instead of laboring over it, we offer you an alternative: our accountable and affordable
handyman services in Tufnell Park N7, N19
. For many years we have
provided our clients
with flawless
repairs in Tufnell Park
. With a
team
, consisting of highly trained seasoned professionals it is a small wonder how we consistently receive incredibly
positive reviews
about our work in N7, N19 Tufnell Park. The reality is that we are a cut above the rest mainly due to our enormous desire to please our clients and our respect for our line of work.
You are as good as your tools as they say, which in our case is rather impeccable. Hurry up and reach us to book our work at convenient times for you, available
every single day
.
Getting a vetted handyman for your domestic needs is easy - call 020 8077 8767
We handle
carpentry jobs around Tufnell Park N7, N19
in a manner that is professional, reliable and comfortable for all parties involved. Our fully licensed and insured
handyman technicians
are first going to consult with you on your views about the job that you want them to do. They will
carefully plan
every step of the project, so that
the carpentry service in Tufnell Park that you receive
from us is indeed covering all specs of the project we are called for assistance with , and then come and do the job at a time that appeals to you completely. Do not forget that we are the one company that uses the best materials, professional supplies and state of the art tools currently in use by the industry .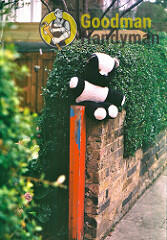 Our Tufnell Park handymen can get your plumbing repaired and/or made
Plumbing problems
come when least expected , it's a fact of life. Having said that, our professional plumbing handymen in Tufnell Park N7, N19 provides an affordable and safe solution to a variety of small and not so small problems relating to plumbing, fixtures and water appliances.
Private and business customers in N7, N19 Tufnell Park
can turn to us for
Repair and replacement of leaky pipes, taps and other fixtures
Unblocking of sinks, drains and toilets
Shower and water appliance installation
Households and establishments in Tufnell Park N7, N19 are serviced Monday to Sunday , under extended hours. We do our best to deal with emergency plumbing problems as soon as physically possible. Customers in
N7, N19 Tufnell Park
receive fair pricing and guarantee of quality work and industry standard results as we use durable, high strength spare parts and materials.
It takes a insured handyman in Tufnell Park to paint a house/flat
Decoration
looks great when it is finished but having to deal with it can turn out to be quite challenging. Leave this to the pros and call our number for expert N7, N19 Tufnell Park painting services. We are an experienced company with seasoned technicians capable of pulling off
even the hardest Tufnell Park N7, N19 painting projects
.
We can paint
on any surface and can also satisfy even the most exquisite taste. As far as indoor decoration goes in Tufnell Park N7, N19 you can get us for floor, ceiling and wall painting. Of course furniture can be painted as well and we will select the most appropriate materials depending on the type of surface we are dealing with.
Call our
numbers – lines are open 24/7.
Work began in eighteen forty five, though most of the construction was centred along Carleton Rd. The housing construction during the second half of the nineteenth century was of sufficient quality and gave Tufnell Park a good suburb status. The area retained its desirable character all the way up to the nineteen hundreds. Initially, these newly built homes were owned by retired merchants and well-off musicians and artists who could afford to keep a holiday house and live elsewhere in the winter. A well-known journalist at the time pointed that rich residents would soon be leaving Tufnell Park as newly constructed housing was going to make the district a metropolis with all the downsides that came with it.
Our firm can handle any property maintenance project nearby
We also have handymen-electricians in Tufnell Park
Electrical maintenance
is extremely important to any household in Tufnell Park.
If you think you are having electrical problems can try giving our handyman electricians in N7, N19 a shot. Simple jobs such as wiring a thermostat or putting light switches, for other companies come with
lucrative payments in Tufnell Park N7, N19
. Instead of bleeding our clients dry we have undertaken another approach. We are sure that an affordable and reliable service is a sure way to
locate work
in N7, N19 Tufnell Park. We also possess some of the best equipment in the business.