Book a Moderately priced handyman in SE1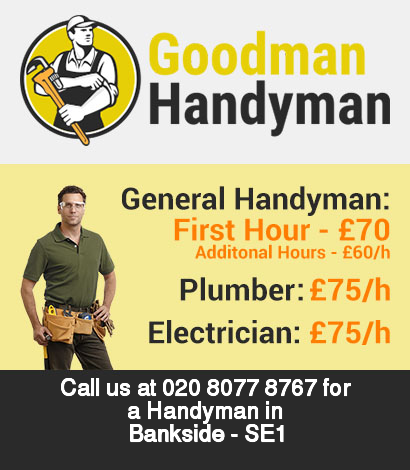 Repair work is almost as unpleasant as it is inevitable
. In
SE1
while you might not want to have to deal with it soon, you better be safe than sorry. instead of laboring over it, we offer you an alternative: our accountable and affordable
handyman services in Bankside SE1
. For many years we have offered our customers flawless
repairs in Bankside
. With a
team
, consisting of highly trained seasoned professionals it is a small wonder how we consistently receive incredibly
positive reviews
about our work in SE1 Bankside. The reality is that we are a cut above the rest mainly due to our enormous desire to please our clients and our respect for our line of work.
You are as good as your tools as they say, which in our case is quite excellent. Hurry up and reach us to book our work at convenient times for you, available
every single day
.
Getting a top notch handyman for your domestic needs is easy - call 020 8077 8767
We are a
premium carpentry contractor in the Bankside area
and we guarantee you the best value for your money. Once you call us our representatives will give you all the options you have along with the exclusive offers we have prepared for you .
There is nothing related to
processing
,
repairing
and
fitting
woodwork that we won't do for you. You will be given a
free quote
and an approximate estimation of the price. Our handymen in SE1 will show up during a time of
your choice
and will be ready to do joinery, polishing and mounting of all sorts of wooden pieces. We also have excellent reviews on our Bankside carpentry assistance.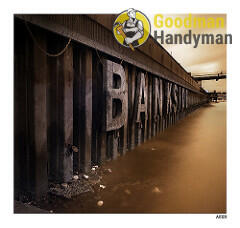 Our Bankside handymen can get your plumbing repaired and/or made
If you have an emergency
leakage situation
in your bathroom
, don't hesitate to call us. We are known for providing incredibly
speedy and affordable
plumbing services in Bankside SE1.
Our trained plumbers can install showers and bathtubs and so much more. No matter the essense of your problem , we will easily offer you top notch quality since we have:
7 days-of-the-week availability
Friendly and competent team
Flexible work schedule
In case of a bathroom plumbing emergency, you can rely on us even on weekends and banking holidays .
Although we have a dedicated
team of plumbers in SE1
, we also cover many other areas because we work with great motivation and ambition.
It takes a certified handyman in Bankside to paint a house/flat
Life would be dull without colors wouldn't it.
No matter how good
the brand of paint that was originally used in your house in Bankside appears to be, either due to different accidents or the simple passage of time, at some point new paint is in order.
The wisest decision
in this case is to hire a decorator in SE1. You can count on us to provide you with
decent paint jobs
in SE1 Bankside for a very low price. Our specialists are experienced enought not to back from any painting work , including floor painting and yard work such as deck painting and fence painting. We have yet to disappoint any of our clients in Bankside SE1. We make use of only the best brands of paint.
The fact that Bankside wasn't always under the jurisdiction of the City of London meant that local development was happening at a different pace. During the Elizabethan period, Bankside was still beyond the jurisdiction of the City of London, at the same time three popular theatres opened doors in Bankside, these were The Swan, The Rose, The Hope and the Globe Theatre. After the regeneration and improvement projects of the last couple of decades, Bankside has subsequently become a significant tourist area with plenty of sights and places of interest. The landmark building in the area is the former Bankside Power Station.
Our firm can handle any property maintenance project nearby
We also have handymen-electricians in Bankside
Having faulty
electrics
in your house is not only unsightly, but it can be also quite dangerous to yourself and your family in Bankside. Instead of sitting idly you have to remove what causes it. Considering the specifics of the job and the huge amount of risk entitled, especially for someone who doesn't know what he is doing, you would most definitely need a professional in SE1. this is where we come in. We are one of the
longest standing wiring experts in SE1 Bankside
. No job is too hard or too dangerous for the top most handyman electricians in Bankside SE1.