Book a Eco-friendly handyman in E1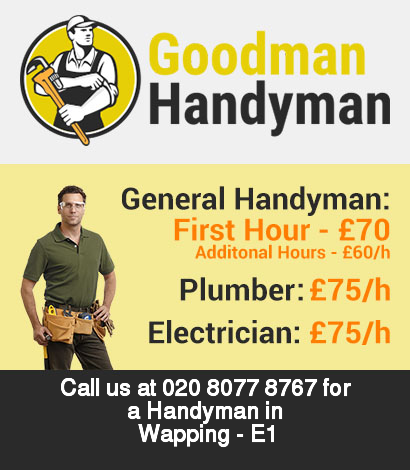 As far as
quality repair and maintenance
services in
E1 Wapping
go, we are indeed the best providers of solutions to every group of residients from around the area.
It does not matter whether the job you need assistance with is
time comsuming
, simple or complex. It does not matter whether you need everything done right away, or you can spare several days .
Our handymen in Wapping E1
work with some of the best equipment, supplies and skills that are known to the industry at the current moment, and they operate on a quite competitive price that can be tailored in accordance to your individual requirements and needs. All you have to do is pick up the phone and book our service. They rest would be our job, and we do it
better in Wapping than anyone else
– you can count on that. We can make your house a better, more comfortable place – give our experts a chance .
Getting a dedicated handyman for your domestic needs is easy - call 020 8077 8767
Probably
every household
has some wooden piece of furniture that should be fixed or improved in order to better meet your daily needs. We know how hard it can be to find
a licensed and reliable carpenter
and that is why we offer the best handymen in the
area of
. Our carpentry contractors have extensive knowledge of their job and can implement different tasks at very affordable rates .
Our customers can arrange their E1 home improvement very easy by reaching us over the phone and
booking a team
of carpenters for any date, which is convenient for them.
We will perform
any joinery work at the most competitive rates in .

Our Wapping handymen can get your plumbing repaired and/or made
If a
pipe
in your
home or office
has started to leak, you should quickly take action before this inconvenience turns into a big problem. As a vetted handyman company that also specializes in
plumbing services in E1 Wapping
, we are prepared to find the best solution for any leakage issue regardless of its scope and character. Our diligent and skilled plumbers rely on
modern equipment
to efficiently detect and fix leaks. The prices we offer are always competitive and our impressive range of
plumbing services in E1 also includes
:
changing tap cartridges
installing dishwashers and washing machines
unblocking toilets, sinks and baths
You can count on us in case of an
emergency plumbing
situation since we are open seven days of the week .
It takes a local handyman in Wapping to paint a house/flat
Life would be dull without colors wouldn't it.
No matter how good
the brand of paint that was originally used in your house in Wapping appears to be, either due to different accidents or the simple passage of time, at some point new paint is in order.
The wisest decision
in this case is to hire a decorator in E1. You can count on us to provide you with
decent paint jobs
in E1 Wapping for a very low price. Our specialists are experienced enought not to back from any painting work , including floor painting and yard work such as deck painting and fence painting. We have yet to disappoint any of our clients in Wapping E1. We make use of only the best brands of paint.
The church of St. George in the East is perhaps the most famous landmark of the area. The church is located on Cannon Street Road and is one of the six Hawksmoor churches that were built in the English capital from 1714 to 172-. The church was struck by a bomb during the German bombings of World War II and the original interior of the church was completely destroyed. In 1--4 the church of St. George in the East was the subject of a massive restoration project which restored and modernized the church's interior. During WWII the crypt of the church was used as a public air raid shelter. Behind the church lies St. George's Gardens which originally was a cemetery.
Our firm can handle any property maintenance project nearby
We also have handymen-electricians in Wapping
We are properly
equipped and competent
electrical
contractors in E1 Wapping
and we provide affordable and top quality handyman services in E1 which can solve all your electrical conundrums. To us it doesn't matter whether we have to wire your thermostat or rewire your house's entire electrical system because we have the manpower and knowledge to handle any job regardless of scale and complexity. Our technicians are diligent and well-trained professionals who won't hesitate for a second to go beyond their call of duty in order to accommodate all your request. You can learn more about our
electrical services in Wapping
by either exploring our website or contacting us via telephone .