Book a Dedicated handyman in SE16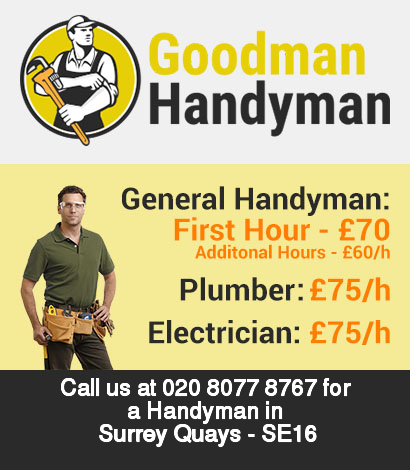 Looking for
reliable
and cheap house repair services in SE16 Surrey Quays? You need not look any further, because our trained and certified technicians are going to provide you with a solution to all your problems and more. We are equipped, licensed and experienced to handle all sorts of domestic maintenance jobs
our Surrey Quays SE16 area clients
have for us.
We will
do our due diligence
and make sure that you do not need to worry about a single aspect of the way that the project is being taken care of .
No matter whether you want us to fix something in your
kitchen
,
bathroom
or
bedroom
, we will do an impeccable job on a competitive price that no other
repairmen team in Surrey Quays
can offer to you. Do not believe us? Give a call to our
friendly and polite
around the clock customer support now and get a free no obligation quote for the full price of your project and you are going to see it for yourself .
Getting a safe handyman for your domestic needs is easy - call 020 8077 8767
Certified handyman technicians in Surrey Quays SE16
Home improvement and remodelling projects seem quite easy on paper, but in reality the amount of skill and labour involved will inevitably require qualified handymen, most of the time a professional carpenter is one of the key figures in the project. Goodman Handyman works with specially qualified and highly experienced carpenters in Surrey Quays SE16 who are able to deal properly with a vast array of general and specialist woodwork requirements. Our tradesmen have all the necessary tools, equipment and material to make your vision a reality, through 100% quality craftsmanship and professionalism on all levels. Proven as the reliable and efficient carpentry/woodwork contractors in SE16 Surrey Quays, we extend our offer to you.
We will breathe new life into beat up pieces which need refreshing. The top grade primer which we use will leave behind a protective layer thus preserving your pieces.
Local trqansport
in Surrey Quays is quote good, offering easy access to the rest of the capitol.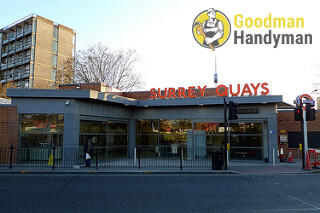 Our Surrey Quays handymen can get your plumbing repaired and/or made
Experienced
and reliable
plumbing handyman in Surrey Quays
is just a phone call away! We provide private and business customers in SE16 with professional plumbing solutions covering a wide range of requirements including
Unblocking of drains, sinks and toilets (emergencies too)
Installation and connection of showers and water appliances
Repair and replacement of leaky faucets, pipework etc.
In order to yield long lasting results and maintain quality workmanship we employ skilled and knowledgeable plumbers equipped with the right tools and materials for the job.
Our teams use high durability/industry grade spare parts and supplies in order to deliver optimal results.
The professional plumbing services
we offer in SE16 happen to be the affordable option you need. Pricing is moderate and does not contain any unmentioned charges .
It takes a certified handyman in Surrey Quays to paint a house/flat
You can look for weeks but you won't find more competent and capable painters than us. We make this bold statement because we are currently reputed as the contractors who provide the best
painting services in Surrey Quays
. To use it doesn't matter whether we have to repaint your entire household or just a room because we have the required manpower and assets to easily and smoothly carry out even the most laborious and complex projects. Throughout the years we have managed to maintain a
110% completion ratio
in SE16 because we are always ready to walk the
extra mile
in order to meet the requirements of our clients and our predetermined deadlines. You can book our painting services in SE16 Surrey Quays by telephone or e-mail .
Our firm can handle any property maintenance project nearby
We also have handymen-electricians in Surrey Quays
Having faulty
electrics
in your house is not only unsightly, but it can be also quite dangerous to yourself and your family in Surrey Quays. Instead of sitting idly you have to
do something
about it. Considering the specifics of the job and the huge amount of risk entitled, especially for someone who doesn't know what he is doing, you would be better off hiring a professional in SE16. this is where we come in. We are one of the
longest standing wiring experts in SE16 Surrey Quays
. No job is too hard or too dangerous for the best team in Surrey Quays SE16.
Surrey Quays is a residential area of Rotherhithe, southeast London. Prior to the 1970s the district's main feature was Surrey Commercial Docks. The docks were closed down, redeveloped for living and entertainment which totally changed Surrey Quay's profile in the decades to follow. The area's boundaries are somewhat unclear, but generally considered to span from Canada Water to South Dock.