Book a Friendly handyman in E18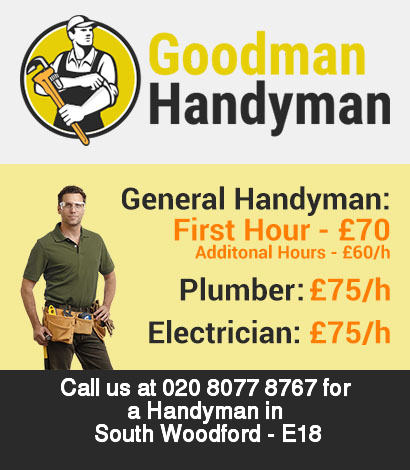 We are the leading
providers of dependable, reasonable and safe handyman services in E18 South Woodford
. We have been the leading company that specializes in property repair solutions in the area, and we have earned our reputation by simply not letting down our clients even one bit. Get in touch today for more information on our team of handymen to be found working around
South Woodford E18
, our
wide ranging services
and affordable rates. You will see for sure that we are indeed the company that will do the job .
Our E18 insured services, reliable experts and flexible schedule will bring not only optimal results of your project, but also your complete comfort and peace of mind. You can count on our experts even in emergency situations – we always have a team ready to
answer your call
, no matter how
urgent
the job is in South Woodford.
We are not going to let you down one bit.
Getting a licensed handyman for your domestic needs is easy - call 020 8077 8767
It is pointless to wait so go ahead and call our numbers in order to make a booking for
elite carpentry services in E18 South Woodford
. We have very skilled technicians and they are ready to help you with any type of South Woodford E18 renovation project. Whether you need a hand regarding a task that is structural or aesthetic,
we are the ones to call
. Our job is to make sure you have long-lasting woodwork done which also is beautiful on the outside. Our employees have plenty of expertise also in E18 South Woodford
finishing carpentry
where we take care of already created pieces and polish them. You can also look for our assistance for repair carpentry services and we will make sure to restore your old antique pieces of furniture.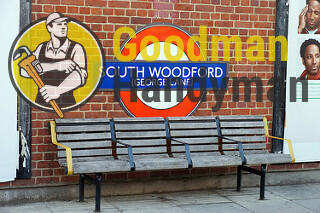 Our South Woodford handymen can get your plumbing repaired and/or made
Plumbing problems
come quickly and unexpectedly , it's a fact of life. Having said that, our professional plumbing handymen in South Woodford E18 provides a truly inexpensive solution to a variety of small and not so small problems relating to plumbing, fixtures and water appliances.
Residential and commercial clients in E18 South Woodford
can turn to us for
Repair and replacement of leaky pipes, taps and other fixtures
Unblocking of sinks, drains and toilets
Shower and water appliance installation
Households and establishments in South Woodford E18 are serviced on a weekly round basis , under extended hours. We do what's necessary to deal with emergency plumbing problems as soon as physically possible. Customers in
E18 South Woodford
enjoy competitive service prices and guarantee of quality work and industry standard results as we use durable, high strength spare parts and materials.
It takes a eco-friendly handyman in South Woodford to paint a house/flat
Do you like watching paint dry? Probably not! Do you enjoy the smell and the mess after a paint job? Doubtfully!
Why then would you
subject yourself
to doing it in
E18
when the simple answer to your toil is just calling us right away. In the whole of South Woodford you would not find a firm better suited or trained to
handle all sorts of decoration work in E18 South Woodford
. We are masters of everything including interior jobs and exterior jobs and we do it all carefully in a blink of an eye. Our affordability is quite high and we are rapidly expanding in South Woodford E18. You can always try other firms but we assure you, that you will be left disappointed .
The main street in the district is called George Lane and it is the place where the greater part of the re-tail and business sectors in South Woodford are concentrated. The other economic center here is the South Woodford Green High Road. The Odeon Cinema here, being the only cinema in the area, is also one of the major entertainment venues for the residents of E18. The green areas which the Green High Road takes its name from are one of the major sources of pride for the local community in South Woodford - and there is a good reason: all of them are quite beautiful.
Our firm can handle any property maintenance project nearby
We also have handymen-electricians in South Woodford
If you want to avoid electrical problems you should contact our company and get the most professional and low-priced services available in the area of E18 South Woodford. Our handyman electricians will organize a complete
maintenance
of the
electrical grid
of your house in a timely manner. For our South Woodford E18 customers we also provide a full range of electrical services that include but are not limited to thermostat or light switch wiring. Your E18 South Woodford house will be completely safe in the hands of our skilled and
seasoned
handymen. By hiring us you get the best
electrical contractor
in the area of South Woodford E18 at a very affordable price .