Book a Green handyman in SE16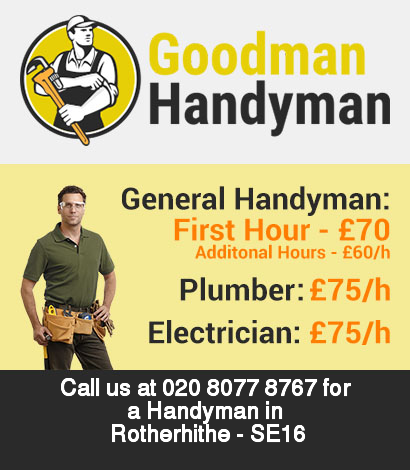 As far as
quality repair and maintenance
services in
SE16 Rotherhithe
go, we are indeed the best providers of solutions to
all sorts
of clients from around the area.
It does not matter whether the job you need assistance with is big or small , simple or complex. It does not matter whether you need everything done right away, or you can wait for a couple of weeks .
Our handymen in Rotherhithe SE16
work with some of the best tools, materials and tested methods that are known to the industry at the current moment, and they operate on a very flexible schedule that can be tailored in accordance to your individual requirements and needs. All you have to do is pick up the phone and make a
reservation
. They rest would be our job, and we do it
better in Rotherhithe than anyone else
– you can count on that. We can make your house a better, more comfortable place – just let us .
Getting a local handyman for your domestic needs is easy - call 020 8077 8767
It is as simple
as that – when
you need carpenters in SE16 Rotherhithe
that you can count on fully in every situation, without stress, strain or hassle while the home improvement project in Rotherhithe is underway, then you should just get in touch with our team of very well trained, professionally equipped and
extensively experienced experts
. Book a
carpentry service
of the highest quality from us and you are not going to need anything else. Free viewings on the premises and an individualized quote is going to be issued to you upon request before you make your reservation, so that you can properly consider your budget in advance and see how competitive and affordable our prices truly are.
Call us now
.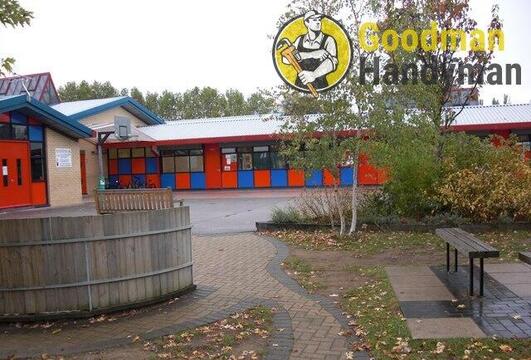 Our Rotherhithe handymen can get your plumbing repaired and/or made
Plumbing problems
come in the most unexpected of times , it's a fact of life. Having said that, our professional plumbing handymen in Rotherhithe SE16 provides a quick and efficient solution to a variety of small and not so small problems relating to plumbing, fixtures and water appliances.
Households and offices in SE16 Rotherhithe
can turn to us for
Repair and replacement of leaky pipes, taps and other fixtures
Unblocking of sinks, drains and toilets
Shower and water appliance installation
Households and establishments in Rotherhithe SE16 are serviced during all days , under extended hours. We do what we can to deal with emergency plumbing problems as soon as physically possible. Customers in
SE16 Rotherhithe
are provided with
accurate quotes
and guarantee of quality work and industry standard results as we use durable, high strength spare parts and materials.
It takes a helpful handyman in Rotherhithe to paint a house/flat
Trust our experience when you are in need of
masterful SE16 Rotherhithe painting services
. You will struggle to find a better
organized Rotherhithe handyman company
than ours when it comes to domestic decoration. Our painting techniques are countless and the services which we offer you vary a lot. Our technicians can operate at your yard where we usually do SE16 outdoor paining of full facades and walls. Additionally you can have
single items painted
and they will look just like new. Check your schedule and give us a buzz – we are committed to delivering you flexible services and we can do it on any day of the week. Advanced painting supplies and tools are provided by our workers .
The Severn Islands Leisure Centre is considered to be one of the main landmarks of the area. The leisure centre is located on the site where once stood the old Rotherhithe Town Hall. The old Rotherhithe Town Hall was closed in 1-05 when the Rotherhithe Council was amalgamated with the Bermondsey Borough Council and the newly form council was relocated into a building on Spa Road. Later the old town hall was converted into a library and museum. During the German bombings of World War II the old Rotherhithe Town Hall was severely damages which led to the demolishment of the edifice after the end of the war. St. Mary's Church is another well-known landmark of the area. The church was built during the 18th century and is situated on St. Marychurch Street.
Our firm can handle any property maintenance project nearby
We also have handymen-electricians in Rotherhithe
We offer top notch and expedient
electrical services
in the area of Rotherhithe and our handyman electricians can do any job at quite affordable prices. For your SE16 house we offer a variety of electricity-related solutions such as light switch wiring or complete rewiring. You can book our experienced and very helpful domestic handyman electricians for any day that suit you best .
You can also rely on us in case you have any electrical problems in the area of
SE16
. Our pros will do their best to come to your Rotherhithe home in no time and resolve the issue.