Book a Precise handyman in SW6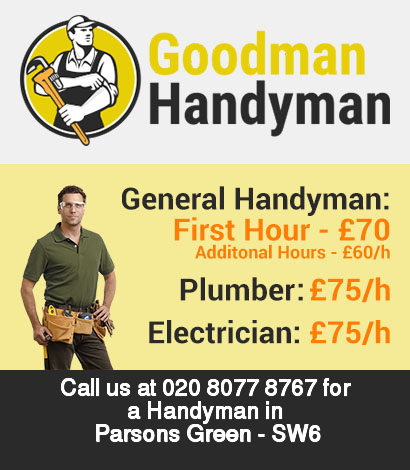 Why tolerate a crack on your
kitchen cabinetry
? Why walk over uneven tiled floors? Why cook your meals in a broken oven? You can easily solve all these problems and more by just picking up your telephone and getting in touch with us. We are seasoned handyman in SW6 Parsons Green and we provide top quality services at affordable prices .
We have the technical capacity and knowledge to conduct all your
house repairs in Parsons Green
and make sure that you live in a nice and cozy household. Your satisfaction is our
primary focus
, so you can rest assured that we will walk the extra mile in order to meet all
your demands
and make sure that the job is impeccably completed. Our Parsons Green SW6 home repair options are designed to equal the highest standards of the industry because we believe that our customers deserve nothing less than the best possible services.
Obtain further information
about our company in SW6 by exploring our website in full.
Getting a efficient handyman for your domestic needs is easy - call 020 8077 8767
Don't hesitate and call our numbers in order to make a booking for
elite carpentry services in SW6 Parsons Green
. We have exceptionally well-trained technicians and they are ready to help you with any type of Parsons Green SW6 renovation project. Whether you need help with something structural or aesthetic,
we are the ones to call
. Our job is to make sure you have long-lasting woodwork done which also looks visibly pleasing. Our workers specialise also in SW6 Parsons Green
finishing carpentry
where we take care of already created pieces and polish them. You can also look for our assistance for repair carpentry services and we
guarantee
we will bring back to life your old antique pieces of furniture.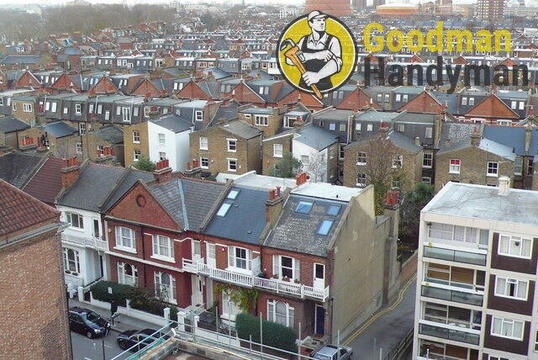 Our Parsons Green handymen can get your plumbing repaired and/or made
Even the smallest and simplest plumbing conundrums
can quickly become complicated tasks which will consume a lot of energy, time and more importantly money. So, why don't you take a knee and have us check and fix your pipes. We are seasoned contractors and we provide high quality plumbing services in SW6 at highly
affordable prices
. We have the
technical capacity
and handymen in Parsons Green to quickly and efficiently clear blocked drains, mount your shower , unclog your toilet and correct
unwanted
leaks. You can easily hire our company as we operate with a flexible agenda which always has free slots for new
plumbing projects in SW6 Parsons Green
. Also don't be timid to contact us on a shot notice because we do accept same day appointments.
It takes a trusted handyman in Parsons Green to paint a house/flat
Life would be dull without colors wouldn't it.
No matter how good
the brand of paint that was originally used in your house in Parsons Green appears to be, either due to different accidents or the simple passage of time, it will eventually need to be changed.
The wisest decision
in this case is to hire a decorator in SW6. You can count on us to provide you with adequate work in SW6 Parsons Green for a very low price. Our specialists are well trained and versed in a variety of services , including floor painting and yard work such as deck painting and fence painting. We have yet to disappoint any of our clients in Parsons Green SW6. We make use of only the best brands of paint.
Today at the site of the village is situated Parsons Green Park which is the main landmark of the area. At the time the park was the location where the vicar of Fulham used to live. Also during the late 1-th century that park hosted the home games of the famous English football club of Fulham F.C. The park has a triangular layout and is the venue of the annual fundraiser known as 'Fair on the Green'. The area is served by the Parsons Green Tube Station which is located in close proximity to Parsons Green Park. The tube station was founded in 1880 and at the moment serves the District Line. Presently the tube station provides transportation services to over six million passengers per year. This makes the Parsons Green Tube Station one of the busiest in London.
Our firm can handle any property maintenance project nearby
We also have handymen-electricians in Parsons Green
Electrical maintenance
is extremely important to any household in Parsons Green.
If you think you are having electrical problems can try giving our handyman electricians in SW6 a shot. Simple jobs such as wiring a thermostat or putting light switches, for other companies come with
lucrative payments in Parsons Green SW6
. Instead of bleeding our clients dry we have undertaken another approach. We are sure that an affordable and reliable service is a sure way to
locate work
in SW6 Parsons Green. We also possess some of the best equipment in the business.