Book a Moderately priced handyman in SE14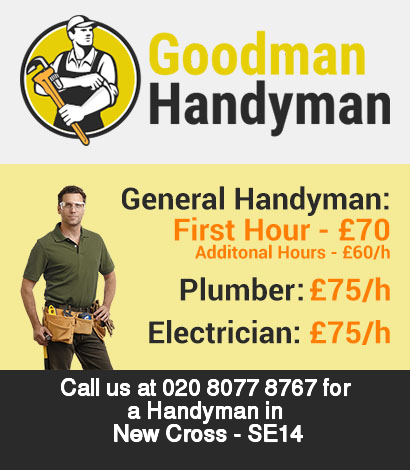 Keeping a house well maintained
is most definitely not an easy task in
New Cross
. A lot of effort and stress goes into the constant repairs that
your property
needs. Often this is a job that has the potential to be disastrous if done wrong.
What would be the wisest decision in this case is to hire a professional service. Such services are widely available in SE14 New Cross as there is never a shortage of handy workers , looking for pay. The only thing you need to worry about is how competent they actually are. Luckily this can often be easily judged by the way they
present themselves in SE14
.
The most trustworthy sources are customer reviews.
Either ways
you should be looking for workers with adequate experience and decent tools at their disposal. Take note however that the biggest companies are not necessarily the ones that offer the best
service in New Cross SE14
.
Getting a fully equipped handyman for your domestic needs is easy - call 020 8077 8767
If there is one
truly reliable
contractor that is handling
professional carpentry services in New Cross
that are up to all quality standards of our business, that is us.
Our team of licensed, exceptionally equipped
carpenters based in SE14 are prepared
to meet with you, check out what your views on the incoming
home improvement
job you have and then make the necessary preparations to make sure that your needs and personal preferences are met in the most professional, stress free manner imaginable .
Carpentry services in New Cross are one of our specialties and we are not going to let you down even one bit if you decide to entrust us with the job that you have in mind – that is how we do things .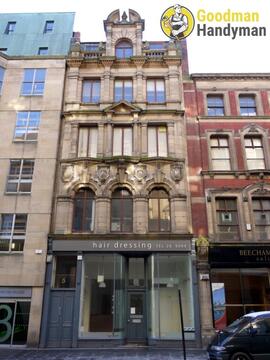 Our New Cross handymen can get your plumbing repaired and/or made
Leaky taps,
burst pipes and blocked toilets
are just some of the many issues covered by our professional plumbing services in New Cross. A wide range of general and specialised plumbing solutions is covered by our
professional handyman range in SE14
. Private and business customers can turn to us and rest assured that no matter how complex the job or big the problem, our qualified and experienced plumbers in SE14will resolve the situation within the shortest time possible. We deal
effectively
with
Plumbing emergencies (blocked pipework/drains, burst pipes)
Regular maintenance and repair
Installation of showers, washing machines & dishwashers
as well as many others. We use
high quality
, industry certified spare parts, materials and supplies in order to deliver long lasting, reliable results and give customers much needed peace of mind.
It takes a attentive handyman in New Cross to paint a house/flat
We are offering high
quality and moderately rated
painting services in the region of New Cross. Our decorators can assist with various tasks, such as deck or fence painting or a complete house varniching and you can hire them at attractive prices. Our customers in SE14 can be sure that
with our handymen
their house painting project is in the hands of seasoned and trustworthy assistants , who can meet every concrete need you have. Book us now to paint
your New Cross SE14 home
and you can enjoy quick and excellent service due to the variety of painting techniques that our team of pros uses. Become one of the
numerous happy customers
with a newly-painted house at the lowest possible rates in the area.
Like other areas of London, lands around New Cross were first owned by the church, and then given to private owners and companies after the dissolution reforms. Eventually, the district became property of the Haberdashery Company - a wealthy livery company which were quite instrumental in the development and urbanisation of the district during the seventeen hundreds. For a little while, New Cross became known as New Cross Tangle due to the many railway lines, number of stations and the multiple local workshops. One of the former places of interest in New Cross was the Hatcham Iron Works.
Our firm can handle any property maintenance project nearby
We also have handymen-electricians in New Cross
Looking for
reliable
and cheap house repair services in New Cross? You need not look any further, because our trained and certified technicians are going to provide you with a solution to all your problems and more. We are equipped, licensed and experienced to handle all sorts of
domestic maintenance
jobs our SE14 area clients have for us. We will do our due diligence and make sure that you do not need to worry about a single aspect of the way that the project is being taken care of. No matter whether you want us to fix something in your kitchen, bathroom or bedroom , we will do an
impeccable job
on a competitive price that no other repairmen team in SE14 New Cross can offer to you. Do not believe us? Give a call to our friendly and polite around the clock customer support now and get a free no obligation quote for the full price of your project and you are going to see it for yourself .