Book a Fully equipped handyman in TW7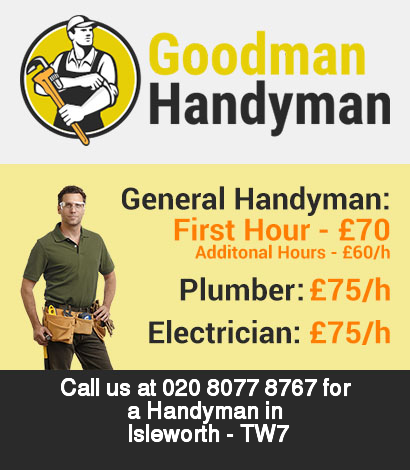 Even the smallest
home maintenance projects
can quickly become tiresome and expensive jobs which will consume vast amounts of your time and energy. You can avoid this from happening by
getting in touch
with us and deciding to take advantage of
our TW7 Isleworth handyman services
. We are seasoned technicians and we have the required instruments to easily, quickly and efficiently carry out both small and large projects.
We use only
the best construction instruments
because we want to be able to handle complex jobs without any unwanted difficulties and costly delays. During our careers we have worked on
numerous house repairs
in Isleworth TW7 and we have managed to complete every single one of them with flying colours because we operate in a precise and responsible manner. You can
ask for a final quotation
by telephone, e-mail or the online contact form which we have posted on our website. Know that we are eager to handle your house maintenance .
Getting a moderately priced handyman for your domestic needs is easy - call 020 8077 8767
We are a
carpenter company
that truly excels in providing various and
moderately-priced solutions
in the area of . Our professional carpenters are fully trained and you can rely on them to finish any joinery tasks quickly and efficiently. You can book a
carpentry contractor for your Isleworth TW7 house improvements for any date, which you find convenient
.
Our
seasoned professionals
are trustworthy and friendly and able to finish jobs that are tailored as per your needs with ease. The homeowners should relax that with our carpentry pros their house is in the safest possible hands. Once contacted, our helpers will come to your place on time and with the necessary tools to provide top notch services that are competitevely-priced.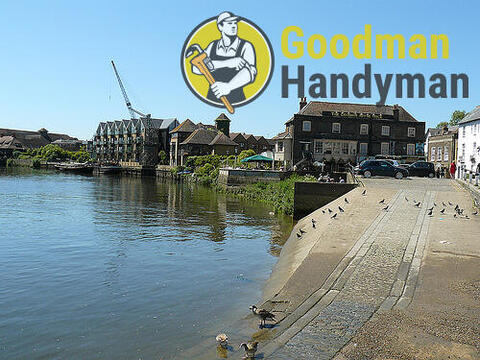 Our Isleworth handymen can get your plumbing repaired and/or made
Licensed and
certified
plumbing handyman in Isleworth
is just a phone call away! We provide private and business customers in TW7 with professional plumbing solutions covering general and specific requirements including
Unblocking of drains, sinks and toilets (emergencies too)
Installation and connection of showers and water appliances
Repair and replacement of leaky faucets, pipework etc.
In order to yield long lasting results and maintain quality workmanship we employ certified professional plumbers equipped with the right tools and materials for the job.
Our teams use high durability/industry grade spare parts and supplies in order to provide exceptional results.
The professional plumbing services
we offer in TW7 happen to be the budget-friendly fixes you need. Pricing is moderate and does not contain any unapproved amendments .
It takes a professional handyman in Isleworth to paint a house/flat
If you are
looking for painters
providing excellent but cheap services in TW7 Isleworth, then contact us and we will make sure to see your project completed using a responsible and time-saving approach.
We can complete
any kind of house painting job from deck or fence painting to complete outdoor paint refreshing thanks to the various
painting techniques that our handymen use
. You can schedule our helpful painting crew to
renovate your Isleworth TW7 home
for any day and time that are convenient for you. Our team of professional decorators is fully trained to assist you with a great diversity of painting solutions that have
the best rates
in the area of TW7 Isleworth, so don't hesitate to become one of our numerous happy customers.
There are a number of amenities of great interest and importance here. For starters, Isleworth was the home of those film studios that produced cult classic films such as The African Queen starring Humphrey Bogart and Katharine Hepburn, Things to Come and The Small Back Room. Unfortunately the Studios closed in the 1-50s and today the buildings and the surrounding grounds form part of an industrial estate. Isleworth is also known for being home to a number of hospitals with great historical importance, like Brentford Workhouse Infirmary and West Middlesex Hospital, West Middlesex University Hospital, Percy House Military Hospital and Mogden Isolation Hospital.
Our firm can handle any property maintenance project nearby
We also have handymen-electricians in Isleworth
We are the best handyman electricians in Isleworth to
handle the maintenance
of your property's electrical system and amenities. Our main focus is on providing to our clients top quality
electrical services in TW7
which will ensure the efficient functioning of their electric system.
Or said in other words we will eliminate all faulty wires , make sure that your thermostat is working properly, replace all out of date
lighting fixture
which consume too much energy and more. As you can see we are Isleworth TW7 electrical contractors who provide comprehensive options which can resolve all your troubles, so stop wasting valuable time and book us today .