Book a Eco-friendly handyman in WC1, WC2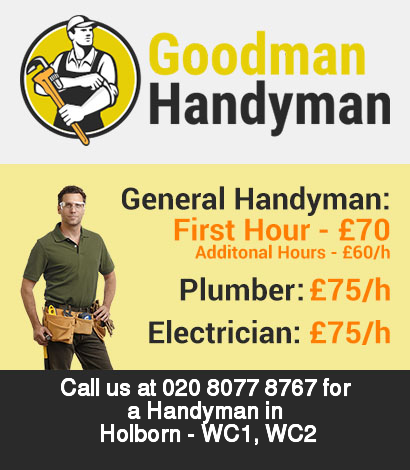 As far as
quality repair and maintenance
services in
WC1, WC2 Holborn
go, we are indeed the best providers of solutions to every group of residients from around the area.
It does not matter whether the job you need assistance with is
time comsuming
, simple or complex. It does not matter whether you need everything done right away, or you can spare several days .
Our handymen in Holborn WC1, WC2
work with some of the best equipment, supplies and skills that are known to the industry at the current moment, and they operate on a quite competitive price that can be tailored in accordance to your individual requirements and needs. All you have to do is pick up the phone and book our service. They rest would be our job, and we do it
better in Holborn than anyone else
– you can count on that. We can make your house a better, more comfortable place – give our experts a chance .
Getting a professional handyman for your domestic needs is easy - call 020 8077 8767
Repairing you home, especially
when it involves carpentry
can be pretty tough
.
You should give us a buzz and make a booking for our WC1, WC2 Holborn expert remodeling services. We have a huge variety of carpentry assistances we can present you with. Get your Holborn WC1, WC2 home
completely overhauled
by trusting our elite WC1, WC2 Holborn carpentry service. We can help you with plenty of tasks including roof re-fitting, or any sort of furniture remodeling.
Our technicians
are able to do all types of joinery which might turn out to be important
especially if you are looking to get
some new pieces. Call us any moment you wish and hire us in a convenient for you time .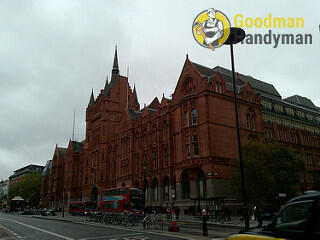 Our Holborn handymen can get your plumbing repaired and/or made
Solving a
blocked drain
problem can be harder than it seems. However, if you choose to hire us, our skilled plumbing experts in Holborn will quickly help you handle any emergency plumbing situation. We will never fail to offer you the most effective
unblocking
service in WC1, WC2.
No matter whether you have a blocked bath or waste pipes , you can trust our friendly plumbers who are even prepared to take on
emergency plumbing
jobs. The benefits we can offer you are:
affordable and clear pricing
professional plumbing advice
reliable household and business plumbing solutions
Our company is certified and insured and
our plumbing services in WC1, WC2 are available
for
domestic
,
industrial
and
commercial
customers.
It takes a friendly handyman in Holborn to paint a house/flat
Trust our experience when you are in need of
masterful WC1, WC2 Holborn painting services
. You will struggle to find a better
organized Holborn handyman company
than ours when it comes to domestic decoration. Our painting techniques are countless and the services which we offer you vary a lot. Our technicians can operate at your yard where we usually do WC1, WC2 outdoor paining of full facades and walls. Additionally you can have
single items painted
and they will look just like new. Check your schedule and give us a buzz – we are committed to delivering you flexible services and we can do it on any day of the week. Advanced painting supplies and tools are provided by our workers .
Our firm can handle any property maintenance project nearby
We also have handymen-electricians in Holborn
We are capable and hard-working electrical
contractors in WC1, WC2 Holborn
and we provide reasonably priced handyman services in WC1, WC2 which can solve all your electrical conundrums. To us it doesn't matter whether we have to repair your shot circuits or rewire your house's entire electrical system because we have the
instruments and experience
to handle any job regardless of scale and complexity. Our technicians are dependable and competent professionals who won't hesitate for a second to go beyond their call of duty in order to meet your expectations. You can learn more about our
electrical services in Holborn
by either exploring our website or sending an
inquiry
by e-mail .