Book a Competitive handyman in HA5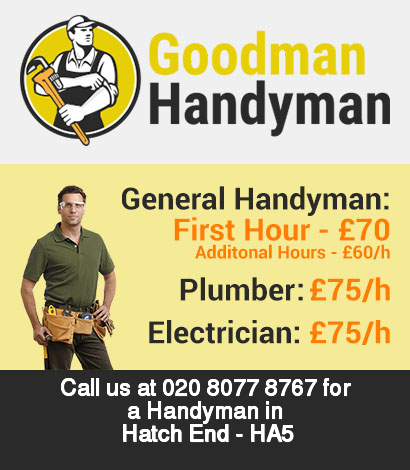 The only way to conduct
a rapid and meticulous handyman project in Hatch End HA5
is to have the right tools and skills for the job.
Fortunately for you we are
Hatch End repairmen
and we have both the
equipment
and expertise to meticulously and efficiently maintain your household. We work in full transparency because we want our clients to know that they have employed
dependable
and qualified contractors who will take good care of their property. To us it doesn't matter whether we have to fix a single feature or your entire home because we have the manpower to
organise
and carry out time sensitive and difficult property repair projects in HA5 Hatch End.
Keep in mind that we utilise high end products because our main goal isn't the patch up the problematic areas but to fix them permanently so that you don't have to worry about them anymore. You can see in advance how much
our HA5 Hatch End handymen services
will cost you by contacting us and demanding a non-binding and final quote.
Getting a affordable handyman for your domestic needs is easy - call 020 8077 8767
When you need a
good handyman
in Hatch End to provide you with an
outstanding carpentry service
for your home in HA5 then you should just get in touch with our company. We have been doing
home improvements
for many years now and we know how to achieve optimal results with no complications whatsoever , on very competitive prices that will
completely
fit your budget
.
Our carpenters in HA5
are licensed and
insured
and then know how to get a job done right away, exactly in the way that you imagine for it should. Give us a call now and make a reservation, we are going to figure out the details, get the supplies and make all your dreams come true .
We found cockroaches in the apartment we rent in Hatch End and immediately called Goodman Handyman. A friend of mine has recommended your pest control services and I must say that they came as advertised – swiftly and efficiently. The rates you work on are pretty reasonable as well. I will have you in mind for the future as well, and have already told a couple of colleagues at work about your company.

Peter S., 29.11.2017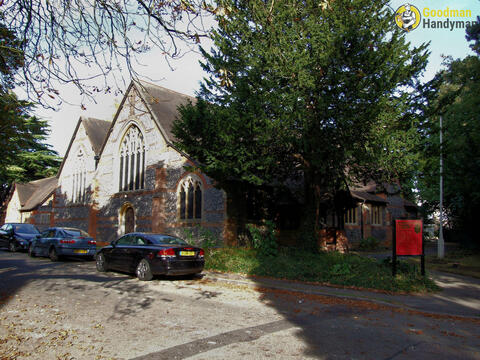 Our Hatch End handymen can get your plumbing repaired and/or made
Leaky taps,
burst pipes and blocked toilets
are just some of the many problematic situations resolved by our professional plumbing services in Hatch End. A wide range of basic and complex plumbing solutions is covered by our
professional handyman range in HA5
. Households and offices can turn to us and rest assured that no matter how complex the job or big the problem, our qualified and experienced plumbers in HA5will resolve the situation within the shortest time possible. We
tackle issues
such as
Plumbing emergencies (blocked pipework/drains, burst pipes)
Regular maintenance and repair
Installation of showers, washing machines & dishwashers
as well as many others. We use
high quality
, industry certified spare parts, materials and supplies as to be able to deliver long lasting, reliable results and give customers much needed peace of mind.
It takes a moderately priced handyman in Hatch End to paint a house/flat
You need a clean and proper house to
feel comfortable living
in Hatch End.
If there is paint coming of the walls or patches covered in dirt or kids' drawings you might need some help fixing that. Fortunately for you we are the best painting company in HA5 Hatch End and we are happy to provide you with our services. We are not like the fraudulent firms in HA5 who are just in it to take your money.
Typically
, a good way to discern the good from the bad are reviews in Hatch End HA5 and we can assure you that not a single negative review exists. Another factor to consider is the materials that one uses, yet again, you can be sure that we offer only the best.
Recent inquiries show that the area has a dominant Caucasian population with approximately 74% of the local population. The second largest ethnic group of people in the area is Asian with 1-% of the local population. The third largest ethnic group is African and Afro-Caribbean with 2% of the local population. Hatch End is also home to one of England's largest Jewish communities, 12% of the local population. There is also has a large Hindu community which also comprises 12% of the local population.
Our firm can handle any property maintenance project nearby
We also have handymen-electricians in Hatch End
We are qualified and seasoned electrical
contractors in HA5 Hatch End
and we provide world class handyman services in HA5 which can solve all your electrical conundrums. To us it doesn't matter whether we have to fix light switches or rewire your house's entire electrical system because we have the expertise and technical capacity to handle any job regardless of scale and complexity. Our technicians are reliable and skilled professionals who won't hesitate for a second to go beyond their call of duty in order to equal your demands. You can learn more about our
electrical services in Hatch End
by either exploring our website or giving us a call .