Book a Green handyman in SE19, SE27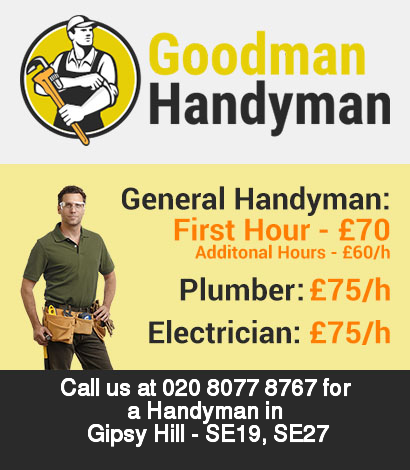 Gypsy Hill's SE19 leading handyman technicians
Having to deal with repairs at home or at work is inevitable. Sooner or later something is going to give, whether it'd be the electrical or plumbing, or heating. When faced with a planned or emergency repair work to your home or office by all means turn to Goodman Handyman and take advantage of the most reliable and efficient handyman services in Gipsy Hill SE19 SE27. We work with qualified and experienced tradesmen who guarantee exceptional quality work and results on all jobs. Naturally, they use only professional grade tools and equipment as well as industry certified spares and supplies. It is the dedication, punctuality and professionalism that have made us the preferred handymen in SE19 SE27 Gipsy Hill.
You are as good as your tools as they say, which in our case is quite excellent. Hurry up and reach us to book our work at convenient times for you, available
every single day
.
Getting a fully equipped handyman for your domestic needs is easy - call 020 8077 8767
There might be a huge variety of
carpentry services in SE19, SE27
but the simple truth is that none of those is as affordable, tested and
effective
as the one that you can count on us for. Our experts are
skillful veterans
with years-long experience in handling domestic
improvement projects in SE19, SE27
. They have access to truly all the necessary means , supplies and materials that are of the highest quality.
Get our carpentry service in Gipsy Hill which has clearly stood the test of time, and you will never have to worry about the what is to come out of the
project that you are planning for your household
. We are here to look after your satisfaction and pleasure and do so better than anyone else.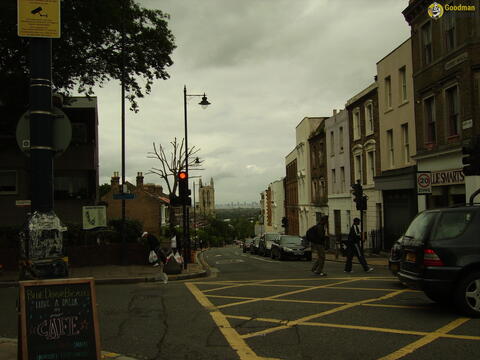 Our Gipsy Hill handymen can get your plumbing repaired and/or made
The
maintenance of plumbing
systems in commercial buildings, like churches, sporting facilities and universities , requires more professional skills. Even though we offer
house and office maintenance
, we also specialize in commercial plumbing in Gipsy Hill. Since we always try to be professional in what we do , we have invested in the best equipment available on the market. Also,
each of our handyman plumbers possesses amazing industry experience
, which allows us to offer
Gipsy Hill SE19, SE27 customers
a long list of benefits including:
Affordable commercial plumbing
Repairs and installations that meet all safety standards
Cost calculation done by our professionals
Regardless of whether you have problematic drain or pipe or faulty cartridge which you don't know how to replace , you can hire us and get the lowest plumbing prices in SE19, SE27.
It takes a reliable handyman in Gipsy Hill to paint a house/flat
Decoration
looks great when it is finished but having to deal with it can really make your life miserable. Leave this to the pros and dial our digits for expert SE19, SE27 Gipsy Hill painting services. We are an experienced company with seasoned technicians capable of pulling off
pretty complex Gipsy Hill SE19, SE27 painting projects
.
We can paint
on any surface and can also satisfy even the most fickle preferences.
Talking about home improvement in Gipsy Hill SE19, SE27 you can get us for floor, ceiling and wall painting. Of course furniture can be painted as well and we will select the tools suitable for the job depending on the type of surface we are dealing with. Give us a buzz – lines are open 24/7.
Our firm can handle any property maintenance project nearby
We also have handymen-electricians in Gipsy Hill
Get in touch with us
if you are experiencing electrical difficulties
. We are experienced and certified electrical contractors in SE19, SE27 Gipsy Hill and we provide
high quality
services with which you will be fully satisfied.
We have been in business for a number of years and we can smoothly and quickly carry execute the electrical wiring of your property, mount lighting fixtures,
maintain the electrical system
of your household or office. We operate with a well-drafted calendar which always has free slots for new projects and which permits us to accept last minute bookings , so don't be hesitant to contact us with prior notification if you need
electrical services in Gipsy Hill SE19, SE27
.
Gipsy Hill is a suburb of South London, part of the Borough of Lambeth. The main road running through the area, which is also called Gipsy Hill Rd takes its name from an actual gypsy camp which was once there prior to 1850s urbanisation brought by the railways.