Book a Fully equipped handyman in N2, N3, N12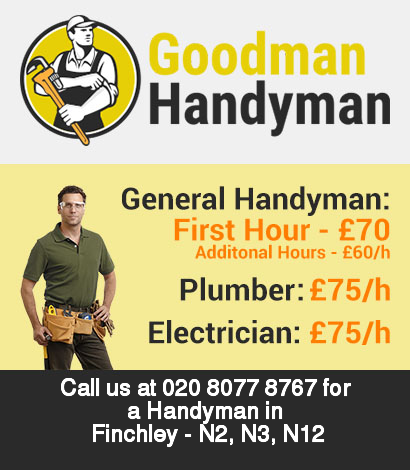 Leaking
faucets
, burst
pipes
, naked
wires
, if these problems are endemic to
your household in Finchley N2, N3, N12
then you have come to the right place .
Goodman Handyman
has years of experience in professional home and office maintenance and repair. Our long standing tradition of quality workmanship translates to exceptional handyman services available to all private and business customers in Finchley N2, N3, N12. Our dedication, professionalism and punctuality have made us
the preferred choice from day one
– we have been able to build up an impeccable business reputation which we upkeep during every job we do.
Leading handymen in Finchley
In order to yield best possible results, and cancel out the margin for error our handymen use only professional grade tools and equipment, as well as industry certified materials and supplies. This ensures our customers in N2, N3, N12 Finchley receive nothing short of the best handyman service around.
Desire alone, however does not guarantee that we will do the job properly. Our state of the art handyman tools, on the other hand mean that no mishaps are going to hire when one of our boys is in your house. Call us right now to find out more or book us straight away.

Getting a efficient handyman for your domestic needs is easy - call 020 8077 8767
Carpenters in all Finchley postcodes you can trust
Get in touch with us at any time you need reliable carpentry service in Finchley. Our team operates in the N2, N3 and N12 postal districts of Finchley. The experts who are working for us are vetted, skilled and very well equipped to meet the requirements of both simple home improvement jobs and big time carpentry projects. We use only the latest equipment and will easily consult you on the best type of wood that is suited to your project. No matter whether we are going to spend an hour or a week working on your Finchley area carpentry job, we are going to demonstrate nothing short of experience, professionalism and care. There is no reason not to trust us.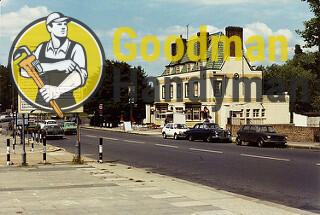 Our Finchley handymen can get your plumbing repaired and/or made
Solving a
blocked drain
problem can be harder than it seems. However, if you choose to hire us, our skilled plumbing experts in Finchley will quickly help you handle any emergency plumbing situation. We will never fail to offer you the most effective
unblocking
service in N2, N3, N12.
No matter whether you have a blocked bath or waste pipes , you can trust our friendly plumbers who are even prepared to take on
emergency plumbing
jobs. The benefits we can offer you are:
affordable and clear pricing
professional plumbing advice
reliable household and business plumbing solutions
Our company is certified and insured and
our plumbing services in N2, N3, N12 are available
for
domestic
,
industrial
and
commercial
customers.
It takes a competitive handyman in Finchley to paint a house/flat
As professional painters
we know how laborious and irritating painting projects can be. This is why we offer our services to everybody who doesn't have the knowledge or instruments to correctly paint or repaint their home or places of work. We are competent and dependable technicians and we provide
affordable painting services in Finchley N2, N3, N12
.
We have the manpower to conduct all types of jobs from full property repainting to smaller projects such as ceiling painting.
The only thing
that you have to do to take advance of our handyman services in Finchley is to give us a call and hire us. You can contact us at any time of the day as we have a round the clock customer support centre. Once you get in touch with us don't forget to demand for your final free quote.
Land cultivation and proper farming began in Finchley in the twelfth or thirteenth century, and was thriving for a while. By the fifteen and sixteen hundreds, farmlands had occupied most of the locale, and much of the woodland was cleared to open up room for what was to be Finchley Common. Great North Rd - one of the medieval highways which were in full use during the period, ran through Finchley Common. This made the area notorious for highway robbers all the way to the nineteenth century. Later on, with the industrial revolution in full swing, Finchley too began to change.
Our firm can handle any property maintenance project nearby
We also have handymen-electricians in Finchley
We are Finchley seasoned contractors who have the needed instruments and knowledge to maintain
your property's electrical system
. We can easily solve all electrical problems because we have been in business for a very long time and during that time we have worked on numerous house and office wiring tasks of different
scale
and
complexity
.
To our
N2, N3, N12 handymen
it doesn't matter whether they have to rewire your home or office , or mount your property's light installation because they are competent and ready to handle any job with absolute excellence. After all it is not by chance that we are
famed as the most accomplished
repairmen
in N2, N3, N12 Finchley.
At the present moment Finchley is home to several pretty notable North London landmarks. Those include The Archer, the famous 3 metre statue on top of East Finchley tube station, and of course the Phoenix Cinema, which is said to be the first purpose built cinema in Britain. Finchley is an area with a predominantly residential character, though its High Street is home to a number of present independent and chain stores, as well as some fine restaurants.

Finchley is a mostly residential district of North London, England. The area is well known for a number of landmarks and local places of interest. One of those is Phoenix Theatre – said to be the first purpose built cinema in the UK.