Book a Trusted handyman in SE3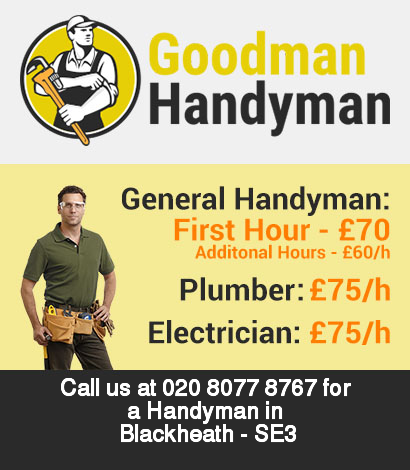 As far as
quality repair and maintenance
services in
SE3 Blackheath
go, we are indeed the best providers of solutions to
all sorts
of clients from around the area.
It does not matter whether the job you need assistance with is big or small , simple or complex. It does not matter whether you need everything done right away, or you can wait for a couple of weeks .
Our handymen in Blackheath SE3
work with some of the best tools, materials and tested methods that are known to the industry at the current moment, and they operate on a very flexible schedule that can be tailored in accordance to your individual requirements and needs. All you have to do is pick up the phone and make a
reservation
. They rest would be our job, and we do it
better in Blackheath than anyone else
– you can count on that. We can make your house a better, more comfortable place – just let us .
Getting a fully equipped handyman for your domestic needs is easy - call 020 8077 8767
Go ahead and
contact us for the finest carpentry service in Blackheath
and have an
easy time
remodeling your house. Our handymen are very skilled and can tackle any sort of carpentry task you have for us. We will not charge you a lot and will still make sure you receive masterful SE3 services.
When it comes to experience
we really have plenty of it and we are not afraid to say it. Our tools and supplies are of the highest order and you are sure to
get your SE3 carpentry project
taken care of within the estimated timeline. All sorts of joinery can be done by us and this includes dowel joints, finger joints, dado joints and many more.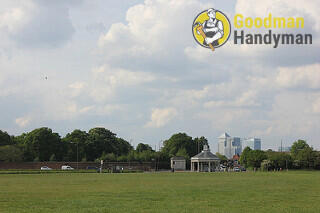 Our Blackheath handymen can get your plumbing repaired and/or made
Need to book a certified
plumber handymen
in SE3 Blackheath? No worries – we got exactly what you need! Our professional plumbing service in Blackheath SE3 offers thorough and reliable solutions to various general and emergency plumbing problems faced by households and establishments. People should definitely turn to us for
Repair and replacement of leaky pipework, taps and other water fixtures
Unblocking of toilets, sinks, kitchen/bathroom/laundry drains etc
Installation/connection/health check of water appliances
In order to ensure best possible repairs and workmanship quality we
utilise the skills and expertise of professional SE3 plumbers
who use industry approved spares and supplies on all jobs. Workplace establishments and residential customers in Blackheath SE3 receive week round service coverage under extended hours. We do our best to handle all plumbing emergencies as soon as physically possible. Competitive estimates ,
adequate pricing
, no hidden fees.
It takes a insured handyman in Blackheath to paint a house/flat
If you are
looking for painters
providing high quality and affordable services in SE3 Blackheath, then contact us and we will make sure to see your project completed in the most professional and expedient manner.
We can complete
any kind of house painting job from offering exterior paint to wallpapering thanks to the various
painting techniques that our handymen use
. You can hire our experienced pros to
renovate your Blackheath SE3 home
for any day and time that are convenient for you. Our team of professional decorators will be more than happy to assist you with a great diversity of painting solutions that have no price match in the area of SE3 Blackheath, so don't hesitate to become one of our numerous happy customers.
Some people believed that Blackheath got its name during the plague in the sixteen hundreds. The plague known as Black Death killed more than half the population of medieval Europe. In the case of Blackheath, people believed that there was a massive burial pit where bodies of dead people were dumped and buried. Although just a myth, there is some credibility behind the theory since burial pits were a common site in many London areas at the time. The sheer numbers of dead people meant that traditional cemeteries and burial grounds simply could not accommodate the bodies.
Our firm can handle any property maintenance project nearby
We also have handymen-electricians in Blackheath
Looking for dependable,
efficient and cost-effective
house repair services in Blackheath? You need not look any further, because our team of vetted experts are going to provide you with a solution to all your problems and more. We are ready to take the responsibility to handle all sorts of
domestic maintenance
jobs our SE3 area clients have for us. We will do our due diligence and make sure that you do not need to worry about a single aspect of the way that the project is expected to finish. No matter whether you want us to fix something in your small apartment or big house , we will do an
impeccable job
on a competitive price that no other repairmen team in SE3 Blackheath can offer to you. Do not believe us? Give a call to our friendly and polite around the clock customer support now and get a free no obligation quote for the full price of your project and you would not doubt us anymore .