Book a Licensed handyman in DA6, DA7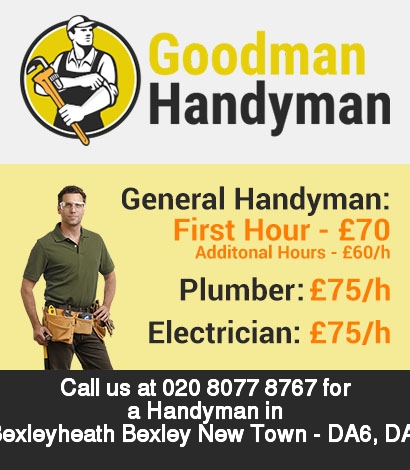 Why conduct your
home maintenance
on your own when you can have us and all our resources by your side.
We are licensed and highly
competent
Bexleyheath Bexley New Town DA6, DA7 repairmen
and we provide top quality services which can
solve all your problems
.
We have the necessary technical capacity to rapidly and effectively fix your floors, walls, ceiling, outdoor features and appliances. Even more, we can lend you hand with the maintenance of your electrical systems as we have a crew of meticulous and capable handyman electricians. We are telling you all this because we want you to see for yourself that we provide
a large selection of services in DA6, DA7 Bexleyheath Bexley New Town
which can be very beneficial for you and your family. Safety is of paramount importance to us and this is why we operate in a dependable and accurate manner. It is no coincidence that we are known as the most
reliable repairmen
in DA6, DA7.
Getting a comprehensive handyman for your domestic needs is easy - call 020 8077 8767
Most of the
home improvement
projects can be quite exciting to start but actually accomplishing them will most likely require hiring a handyman.
Call our carpenter company
in
DA6, DA7 Bexleyheath Bexley New Town
and just let us know what type of a household project you have on your hands. Our specialists have all sorts of carpentry supplies used for cutting, joining and polishing. We are able to come up with any sort of finish you like and your satisfaction is 100% guaranteed. We are a
reliable carpentry contractor in Bexleyheath Bexley New Town DA6, DA7
and workers dispatched by us are also good for all sorts of domestic remodeling.
We will breathe new life into antique furniture which need refreshing. The top grade primer which we use will leave behind a protective layer thus preserving your pieces.
Our Bexleyheath Bexley New Town handymen can get your plumbing repaired and/or made
Licensed and
certified
plumbing handyman in Bexleyheath Bexley New Town
is just a phone call away! We provide private and business customers in DA6, DA7 with professional plumbing solutions covering general and specific requirements including
Unblocking of drains, sinks and toilets (emergencies too)
Installation and connection of showers and water appliances
Repair and replacement of leaky faucets, pipework etc.
In order to yield long lasting results and maintain quality workmanship we employ certified professional plumbers equipped with the right tools and materials for the job.
Our teams use high durability/industry grade spare parts and supplies in order to provide exceptional results.
The professional plumbing services
we offer in DA6, DA7 happen to be the budget-friendly fixes you need. Pricing is moderate and does not contain any unapproved amendments .
It takes a organised handyman in Bexleyheath Bexley New Town to paint a house/flat
Trust our experience when you are in need of
masterful DA6, DA7 Bexleyheath Bexley New Town painting services
. You will struggle to find a better
organized Bexleyheath Bexley New Town handyman company
than ours when it comes to domestic decoration. Our painting techniques are countless and the services which we offer you vary a lot. Our technicians can operate at your yard where we usually do DA6, DA7 outdoor paining of full facades and walls. Additionally you can have
single items painted
and they will look just like new. Check your schedule and give us a buzz – we are committed to delivering you flexible services and we can do it on any day of the week. Advanced painting supplies and tools are provided by our workers .
Our firm can handle any property maintenance project nearby
We also have handymen-electricians in Bexleyheath Bexley New Town
Get in touch with us
if you are experiencing electrical difficulties
. We are experienced and certified electrical contractors in DA6, DA7 Bexleyheath Bexley New Town and we provide
high quality
services with which you will be fully satisfied.
We have been in business for a number of years and we can smoothly and quickly carry execute the electrical wiring of your property, mount lighting fixtures,
maintain the electrical system
of your household or office. We operate with a well-drafted calendar which always has free slots for new projects and which permits us to accept last minute bookings , so don't be hesitant to contact us with prior notification if you need
electrical services in Bexleyheath Bexley New Town DA6, DA7
.